A new report published by Credence Research forecasts double digit CAGR for the global mobile wallet market from 2016-2023.
"Mobile wallet technology is touted to be the next generation technology in the era of cashless transactions, replacing traditional plastic cards," the researchers explained in a report summary.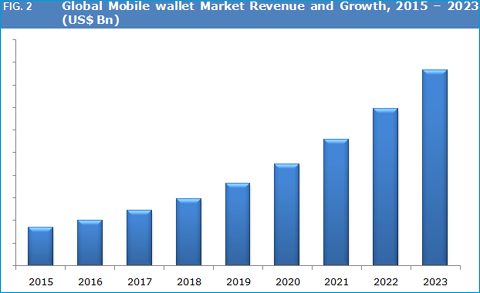 Image Credit: Credence Research
"Mobile wallets are capable of storing the information and details of credit/debit card, enabling customers to pay at NFC-based POS terminals using their mobile phones."
The report names advancements in technology and "continuous efforts" by the global payments industry to improve security as catalysts for the growing popularity of mobile wallets.
"Advancements in technology have led to an increase in the number of smartphones supporting contactless payment technologies like near-field communication (NFC)," the researchers confirmed. "This, in turn, is favoring the market demand. These factors are expected to contribute towards a double digit CAGR during the forecast period 2016 – 2023."
As BusinessInsider notes, a properly implemented mobile wallet allows companies to engage users with an in-app experience, starting at the beginning of the retail journey and continuing beyond with notifications, reminders of upcoming expiration dates, archived digital receipts and a real-time tally of current loyalty bonus points. Indeed, a poll commissioned by Urban Airship found that loyalty cards and coupons are particularly important to consumers, with 67% of respondents requesting the former and 62% wanting the latter.
Mobile wallets housed on smartphones also allows retailers to collate purchasing data and track trends, increase upsell and cross-sell opportunities, reduce transaction fees with integrated credit card payments, minimize staffing requirements for check-out lines and free up more store space for actual products.
From a broader perspective, an improved consumer experience facilitated by mobile payments will ultimately act as a major driver of customer loyalty and brand equity. It should be noted that millennials are already embracing mobile wallets that seamlessly integrate loyalty cards, boarding passes, ID cards, coupons, event tickets, alerts and notifications. Moreover, 21.8% of those polled by CCG Catalyst say they never carry or use cash for purchases.
Interested in learning more about mobile payments? You can check out our mobile payments page here.