Artificial Intelligence (AI) is slowly, but surely, becoming less science fiction and more science fact. Already, there are applications of AI in fields such as Waymo's self-driving cars, to Ant Financial's photo-recognition platforms for insurance claims, to Huawei's AI-equipped Kirin 970 chip which powers its Mate 10 phones. Open source software packages exist that can be downloaded, like Amazon's camera that can connect to cloud services supported by their infrastructure, to classify images to start building custom AI packages for the user.
Still, while there have been great strides in advancing the application of AI in multiple use cases, the technology is still in a nascent stage, with many possibilities on the horizon.
Smart Secretaries: Smart Assistants Leave Home
Smart assistants like Amazon Alexa, Google Assistant and Microsoft Cortana have found themselves in peoples' homes through Amazon Echo, Google Home, and Harman Kardon INVOKE, respectively. Some companies are not content with their smart assistants remaining at home, however. During Amazon's AWS re:Invent in November, bigger plans for  Alexa were revealed, including the introduction of Alexa for Business, indicating a move for the voice assistant from the home to enterprise.
Alexa for Business can place meeting calls with Cisco, Polycom, Zoom, and other communication platforms that can respond to "Alexa, join my meeting." Alexa for Business will also include Salesforce to answer questions about business performance, Concur to share business travel itinerary information, RingCentral for voicemail readings, SAP SuccessFactors for Human Resources (HR), and other office-related third-party voice services.
Catch-a-Ride: Autonomous Vehicles
While there is considerable debate about how far away we are from having fully autonomous vehicles being used on a wide scale, automobiles are certainly adopting more features towards full autonomy. Waymo's fully-autonomous cars are being tested on the streets of Mountain View, Austin, Kirkland, and Phoenix, gathering data about real-world traffic conditions and spontaneous scenarios (e.g.: an errant pedestrian walking in front of the car). Mercedes showcased its Intelligent Drive autonomous test drive in one of their S-Class cars at CES 2018 in Las Vegas.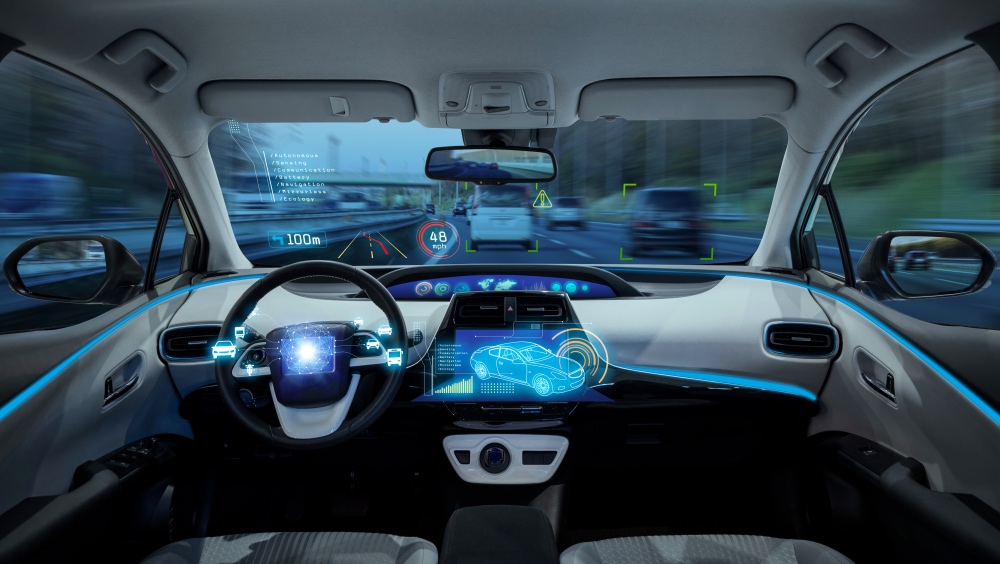 Nevertheless, a car does not have to be fully autonomous to use AI. There are varying levels of partially autonomous features, such as lane keeping assist (level 1), autopilot (level 2), and conditional automation (level 3) In the case of conditional automation, the car actively monitors and navigates the environment, but requires the driver to have their hands on the wheel in the event the car requests human intervention. Audi's upcoming A8 plans to be the first production car to feature conditional automation.
Data Centers
The use of AI in data centers has steadily grown, with neural networks being used for tasks including natural language processing, image classification, and improving data center energy efficiency.  With research continuing to uncover new ways to use AI in data centers, and with Field Programmable Gate Arrays (FPGA) and specialized hardware being designed for use in data centers, the use of AI in data centers will continue to increase in the future.
The growth in connected devices has brought about a dramatic increase in the amount of digital data being generated and analyzed every year.  As data volumes have grown, it's become increasingly difficult to transmit all the data to centralized data centers to be processed.  In order to save power and reduce latency, some processing is moving out of the data center and towards the edge of the network.  Fog and Edge computing are gaining interest to improve energy use and response time, and AI will find additional uses as processing moves closer to these connected devices.
Challenges
Of course, things are moving so fast that there is a need for a lot of supporting infrastructure. For example, on the Waymo vehicles, there are lidars, small rotating devices on the car that act as a kind of radar by using lasers. Lidars paint a picture of what the rest of the world looks like, but they do not have a picture-perfect representation of the world around the car.
As AI gets more sophisticated in handling different scenarios, so too do the requirements of the supporting infrastructure. The challenge is not only in providing supporting infrastructure to increasingly advanced AI, but to also create infrastructure that is more precise and more cost effective at the same time. While companies like Nvidia are working on building better silicon chips for advanced processing, the advancement of AI will take time in order for infrastructure to advance in ways that AI can take advantage of.
Conclusion
Artificial Intelligence is on the rise, and it is changing the way people live their lives, whether it is predicting a user's tastes based on search info, or transporting people in driverless cars. As AI becomes more sophisticated, it opens up more possibilities for the future, well beyond smart office assistants, autonomous cars, and classifying data. The future of AI is extremely bright, and capabilities that once seemed far-fetched will become realities in our lifetimes.